Sales Funnels have been at the top of marketing discussions for a long time and they will retain their importance because they do work very well. You could spend thousands of dollars to drive traffic to your site or product, with no guarantee that your visitors are willing to buy your products and services.
A combination of strategies and sales techniques must be used to get your visitors engaged, raise their awareness that you are presenting something valuable to them and not just a plain ads campaign that asks them to buy. That is where funnels win because they are not just a visitor click to an ad but instead show your prospect's journey from the first interactions with your brand or services to the final goal which is conversion.
The first interactions are to leverage awareness and branding about your services. Based on specific conditions and prospect behaviour you will filter only a part of your prospects will continue with this journey and at the end a small percentage will convert.
Turning visitors and readers into buyers is not that easy thought. Most of them will never convert and you have to work for that small percentage that is really searching for a product or service that you offer. You win if you convert that small percentage to buyers before your competitors do it.
There are many factors that play a role on obtaining a highest conversion rate. A good strategy and a good funnel is very important to get the most out of your campaigns and turning unknown prospects to become your loyal customers.
The sources of your prospects
Prospects come to your funnel from different paths that may be a Facebook page, a blog post, something you offer online or by advertisements. The best prospects are those that come in to your funnel by being highly targeted. You need to attract those who are really in need of the services you offer. Needless to say, if you run a very broad spectre ads campaign, you will have visitors who will not be interested in your services.
In Flexie CRM you can capture leads and prospects in many ways as the platform has highly dynamic integration capabilities.
Some of the tools that easily capture leads are:
Flexie Forms – which is a simple form you create and copy its code to your Website.
Incoming emails – by grabbing the email's important data and analysing it.
Dynamic Endpoints – get data from every app that have web-hook capabilities
Zapier – every other app that does not have a webhook can take advantage of Zapier to bring leads in Flexie CRM
Flexie CRM API – you can connect directly to the API and perform CRUD operations.
Warming up takes time
Times to warm up varies and is different for each prospects. You are very lucky if the your visitors were searching for a service like yours and now they have found you. In the most cases, the visitors are just curious and do not have a clear vision of what they are searching for. In this case it will take more effort to show them the potential of your services and products and how they can benefit from it.
No matter what, you should not push your prospects away by being pushy. If you send them an email, then wait for a response and if they don't buy, don't get angry.
Below you have a simple warm up and follow-up workflow. As you may see, you will always have to check for unsubscribes, this way you save your reputation and serve your services to those who might need it.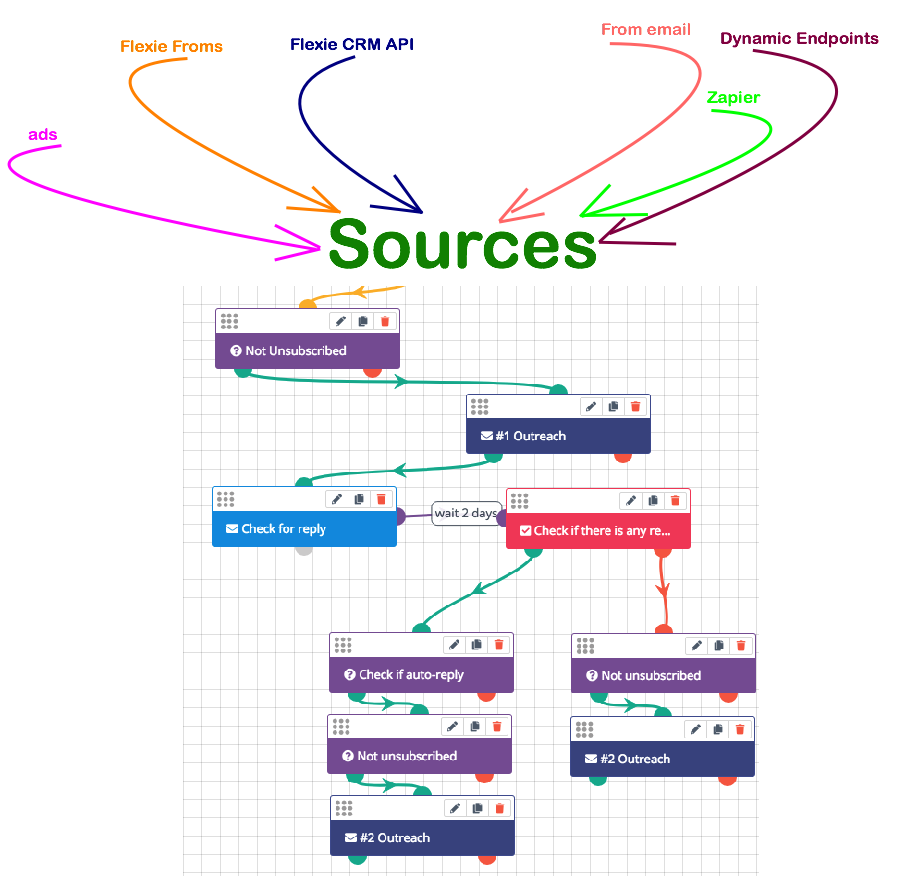 When your prospects show interest
When you get original responses from your leads or prospects, you have to continue the process personally.
This usually is a signal that their curiosity and interest is triggered. You have to present more details and respond to why they may benefit from this service of yours.
If you are selling online stuff, then you might give them options to try out your product like free trials. If you are selling books you can give some free chapters so they can take a look at it.
Once they start evaluating your services and products, then you are near the end of your funnel. You are closer to turning them to buyers.
You turned a prospect into a buyer
Even when you had a purchase from a prospect, that does not mean the process is done here. You have closed a deal at this point, but you have to always keep your customers happy and returning.
If you loose a prospect is bad but if you loose a customer is way worse. So keep your customer service at the highest level possible and always keep an eye on it.
To stay updated with the latest features, news and how-to articles and videos, please join our group on Facebook, Flexie CRM Academy and subscribe to our YouTube channel Flexie CRM.