Marketing techniques like advertising and branding have been used since antiquity. What has been changing continuously are the channels and mediums of communication. In the nowadays, you can use a mix of techniques to achieve the end goal which is your business growth.
Many tools out there can help you create funnels and setup a cold outreach in order for you to reach your target, but if you want to save time and achieve more, then you must use today's all-in-one systems which handles management of the data and the operations you perform on those data.
Suppose you want to contact a group of leads you may have and they all fall into a group of specifics. In the normal email scenario, you should navigate back and forth and compose the emails one by one because you need to differentiate between the leads or keep an eye what you write.
In Flexie CRM that can be done very easily by avoiding the distraction of going back and forth.
The first step is to set the filters in order to get the group of leads you want to contact. Let's suppose you have 1.000 leads and after making the filtering on the leads list, you get 50 matching your criteria.
After that step, you go on by clicking on the first one and the following screen will appear: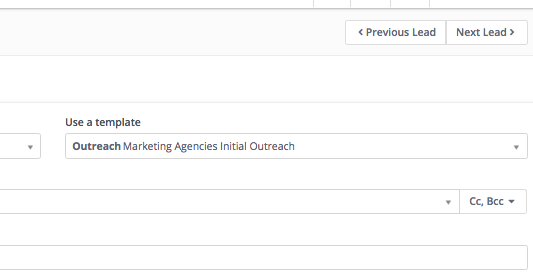 In the next and previous button, you can navigate one by one to the 50 leads you have filtered out to be contacted.
What remains the same, is the email you are contacting them from, the template you have selected to use and the tab where you are on. Being it an email, or a note, the persistence of your selection is there to make you more efficient and save you more time.
This way you avoid going back and forth hundreds of times, from a lead profile to the list of leads and then to another lead profile and then to make template selections all over again.
You could choose options like Send or Send Later which would put the email on a schedule time to be delivered.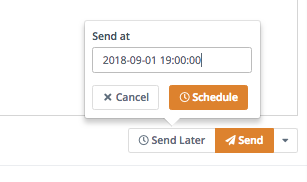 You could also plan a follow-up after you send the email in case the recipient has not responded you your email.

And then choose a template to use for the follow-up like shown in the image below: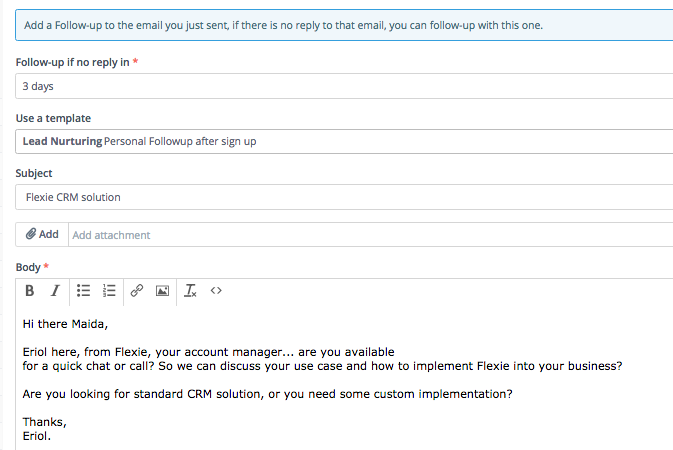 This explains exactly how important an all-in-one system is and how it can save your time which you can use in a more productive way.
To stay updated with the latest features, news and how-to articles and videos, please join our group on Facebook, Flexie CRM Academy and subscribe to our YouTube channel Flexie CRM.